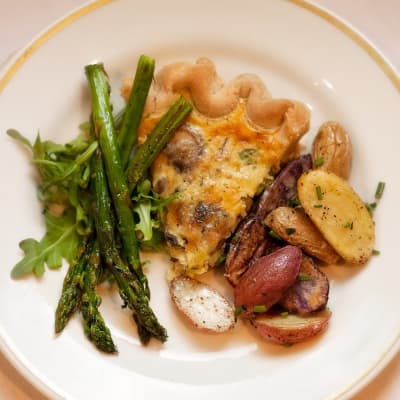 Amenities
Full Breakfast included
Executive Chef Paul Wonderful prepares breakfast each morning at 8 A.M. & 8:30 A.M. in the formal dining room. Please let us know of any dietary restrictions prior to your visit.
Our breakfasts are prepared using the finest locally sourced ingredients including farm fresh eggs, fresh-squeezed juices and farmers markets produce (when available).


GENERAL INFO
Lovely Common areas inside & outside courtyards
Complimentary Wi-Fi
Free Street Parking (on our side of the street)
Most rooms are on the second floor (stairs)
Located 2 miles from downtown, on the East side of the River in the Irvington Historic District
Shopping & Restaurants just a few blocks away
Great Public Transportation (Trimet.org)
10 Miles to Portland International Airport
No Pets
We are a non-smoking property
ROOM AMENITIES
Hair Dryers
Private ensuite bathroom
Air conditioning
Complimentary Wi-Fi
Flat Screen TV
Robes
Hair Dryer
One Jacuzzi Tub Room (Chauffeur's Quarters)
One Clawfoot Tub Room (Baron's)
3 Rooms fit a Roll-away Bed (Canopy, Chauffeur's Qtrs & Rose Rooms)
Gilchrist Soames Amenities
Non-Smoking (all rooms)
BANQUET FACILITIES
Weddings
Rehearsal Dinner
Elopement Packages
Anniversary Celebrations
Business Retreats
Corporate Meetings
Birthday Parties
Brunches
Bridal Parties
Formal Dinners
Holiday Parties
Bar & Bat Mitzvah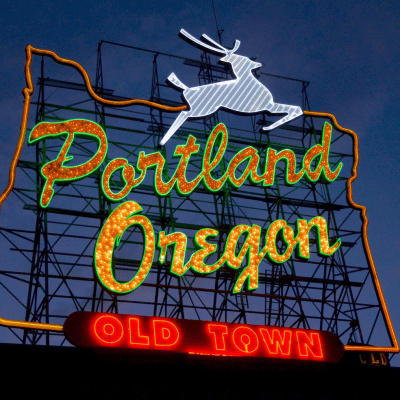 Experiences
Tour Packages
As the finest B&B in Oregon, Portland's White House is proud to partner with the state's #1 adventure tour operator to offer the finest private tours available. Every private tour includes a professional guide, luxury SUV or Mercedes Sprinter transportation, and custom itinerary design based on your interests.
Cost For All Tours:
$115/hour - 1 - 3 people
$140/hour - 4 -11 people
Minimum - 3 Hours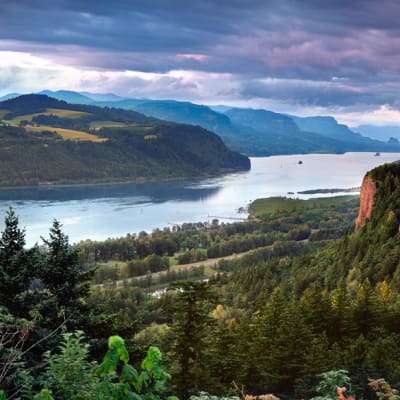 Explore Columbia Gorge
COLUMBIA GORGE EXCURSIONS
Witness Mother Nature's majestic Columbia Gorge with a fun and knowledgeable guide who will show you its countless wonders including the 620-foot-tall Multnomah Falls, towering basalt cliffs and diverse ecosystems that transition from the lush wet forests of Douglas fir, cedar and hemlock to dry ponderosa pine and oak forests of the eastern Cascades. You might see Osprey and Eagles as they glide through the air or perhaps some Pacific Northwest Salmon swimming upstream… maybe even 70-year-old Herman the Sturgeon if he's up for a visit. For lunch, we'll head to Hood River Valley known for its breweries, wine tasting, fine dining and many boutiques. (Private gourmet multi-course meal by local chef available)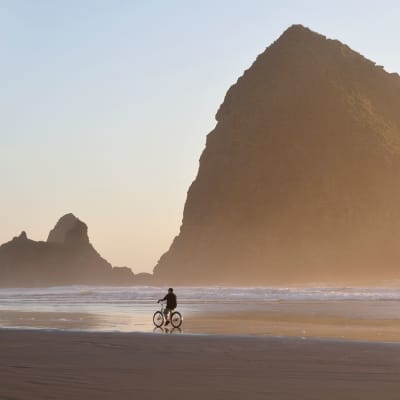 Explore Oregon's Coast
ADVENTURE ON THE OREGON COAST
The rugged Oregon coastline is a favorite vacation destination for locals and visitors alike, and your dynamic private tour guide will show you just why that is. First stop is the quaint, historic town of Astoria known for its Victorian homes (including the one featured in "Goonies") as well as its many museums, bridges, lighthouses, historic forts, restaurants, breweries and growing art scene. Next, you will visit the picturesque town of Cannon Beach, famous for the massive Haystack Rock. Walk through its many shops, restaurants, bars, galleries and more. If you're feeling adventurous, your guide can take you on a beautiful hike through a coastal rainforest in Ecola State Park. You will unwind from your adventure with a relaxing drive down the coast before heading back to enjoy the city.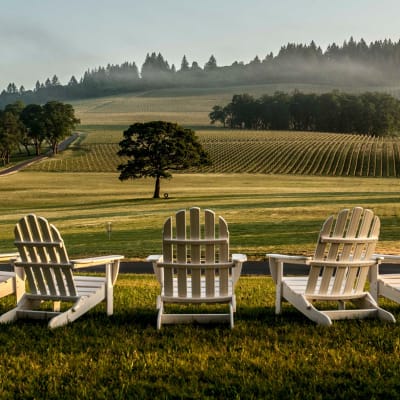 Enjoy Oregon's Wine Country
TOUR OREGON'S FINEST WINERIES
Explore one of the country's biggest and best wine regions — Oregon's Willamette Valley. The valley's mild maritime climate provides the best conditions for growing the Pinot Noir grape, but our wineries specialize in so much more including Pinot Gris, Pinot Blanc, Chardonnay, Riesling, Gewürztraminers, Sauvignon Blancs and in the warmer parts of the state, Syrahs, Cabernets and Merlots. On a private tour of wine country you will be treated to a behind-the-scenes look at how our leading vintners produce their product while sampling the award-winning wines that put Oregon on the map. You will also be treated to an exceptional meal paired with fine wines not offered to the general public.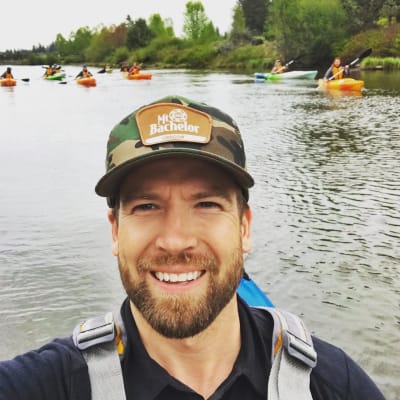 Let's Make it Happen
ASK OUR NATURALIST KIERON ABOUT
Helicopter tours of the city
Hot-air ballooning
Zip lining
Golfing
Fishing
Brewery bicycling tours
Luxury spa days
Group bike tours of the city
Hiking
Kite Boarding
Wind Surfing
Private Chef
Bridal party adventures
One-of-a-kind engagement proposal packages